Erika Morgan | Philadelphia, PA
For Erika, biking is freedom.
"From commuting to work to cruising along trails and running errands, every ride is an adventure," says Erika. "Each pedal connects you to yourself and your surroundings, giving you a new perspective on life."
While cycling can be exhilarating, the lack of proper bike infrastructure and dangerous driver behavior can create deadly situations for cyclists.
"One day, I'd like to see bike highways, which are bike lanes fully separated from cars, connecting cities and towns across America."
Russell Ewing | Baltimore, MD
Biking in the morning gives Russell a jolt of energy that not even the strongest of coffee can produce. Commuting to work via bike allows him to get fresh air and exercise every day, even if it is for just 20 minutes.
"I would say the primary challenge to cycling in Baltimore is the lacking infrastructure," says Russell. "There have been some recent gains but there is nearly constant resistance to even minor facilities such as bike lanes or bike racks, which don't reduce parking space or traffic capacity."
Russell's suggestions for infrastructure improvements to increase safety include: bike lanes that are separated from lanes of traffic (not just painted lanes on the side of a street), preventative, not punitive, traffic control measures such as traffic calming structures and re-timed light cycles, and public outreach, education, and share-the-road initiatives.
Data has shown that more people bike when there is dedicated bike infrastructure. Baltimore has wide streets, which cars take advantage of by speeding, but those streets are a great opportunity for added bike infrastructure with minimal impact to car traffic.
Russell suggests that those in the Baltimore area follow and support the work of Bikemore, the city's bicycle advocacy group. They are fighting for a less car-centric Baltimore, which includes improvements for pedestrians and public transportation, as well as bicycle infrastructure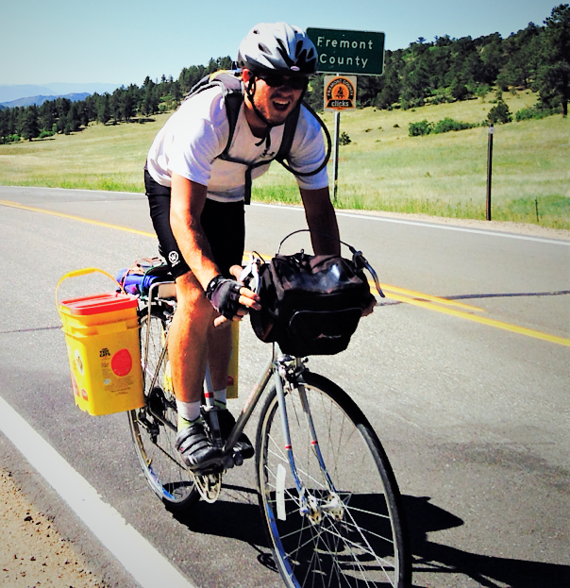 Rob Hopkins |  Verona, VA
Rob considers himself an environmentally aware citizen and he wants to do anything and everything in his power to drive us toward a more sustainable and eco-friendly future.
Having biked across the country from Virginia to Oregon, he's seen plenty of instances where safety can be improved. Cell phones and other forms of distracted driving rank number one for Rob. On his journey, he passed another cyclist and later learned that she was killed by a driver who was texting.
Rob believes drivers need to be better educated on the laws surrounding cycling. Bikes are considered vehicles on the road, but cars don't often give three feet of space when passing. Ensuring all roads have enough space for both modes of transportation to share the road will help reduce accidents.
"There are also never enough shoulders on roadways," says Rob. "I've always wondered why all roads weren't designed with an appropriate shoulder to provide an adequate buffer between bikes and cars."
Aaron Bertoldi | Baltimore, MD
Biking to work in Baltimore means Aaron gets to avoid paying for parking and can get in and out of the city with ease, as opposed to sitting in traffic downtown. He usually parks his car in a free parking area outside of the city and pedals in.
Last year, our Baltimore office was named a Bronze-level Bicycle Friendly Business (BFB) by the League of American Bicyclists. This distinction recognizes our efforts to "encourage a more welcoming atmosphere for bicycling employees, customers, and the community." There are plenty of amenities at or near our office, such as bike parking, showers, and bike share.
Aaron says that the biggest hazard he faces comes from pedestrians, who may be looking at their phone while crossing the street or might step out into an area other than the designated crosswalk.
Nate Lehigh | Baltimore, MD
Nate finds biking to work to be less stressful than driving and sitting in traffic. Having the wind in his face gives him a feeling a freedom and is reminiscent of his childhood. His bike commute is fairly simple and is mostly along dedicated bike paths around Baltimore's Inner Harbor.
"Pot holes and the poor quality of roads are big challenges," says Nate, "but they're nothing compared to drivers not paying attention to bikers. Having dedicated bike lanes along major thoroughfares would improve safety the most."
Bart Gibson | Verona, VA
Our Verona office is only 10 miles from Bart's home, so he's able to get plenty of exercise during his commute. Working in the middle of the Shenandoah Beerwerks Trail also gives him the opportunity to take in the natural beauty of the area and connect with other cyclists.
"The only real challenges are the old, rough back roads and the 500-foot elevation difference between home and work," says Bart. "Plus, all the young boys out here have diesel trucks and like to downshift next to you."
There is a strong road and mountain biking community in the Shenandoah Valley, where our office is located, with events such as 25-30 mile no-drop rides, all-ladies rides, and 20-30 mile keep up or drop rides.