Kent Conservation District nominated Delmarva Power & Light Company as its Kent County Urban Award winner for the 2018 Governor's Conservation Awards. Presented on May 1 at the Delaware Agricultural Museum, the award recognizes the transmission line project from Cedar Creek to Milford.
The Cedar Creek to Milford 230 kV Transmission Line Rebuild consists of rebuilding a 43-mile circuit owned and operated by Delmarva Power & Light Company (DPL) and located within New Castle, Kent, and Sussex Counties, DE. The project is located within an existing transmission right-of-way (ROW) between the DPL Cedar Creek Substation in Middletown, DE and Milford Substation in Milford, DE. This is a DPL capital improvement project required to meet the current and future demands for electric service.
As a transmission owner, DPL is responsible to plan and operate the transmission system in accordance with standards set forth by the Federal Energy Regulatory Commission (FERC), the North American Electric Reliability Corporation (NERC), and PJM Interconnection, LLC (PJM). The existing line configuration includes a 230kV Transmission Line on wooden H-frame structures with infrastructure that is more than 50 years old, including poles, wires and equipment that have reached their useful service life. DPL replaced the existing H-frame configuration with new conductor and hardware on new steel monopole structures within the existing Project ROW. The existing wooden H-frame structures will be removed.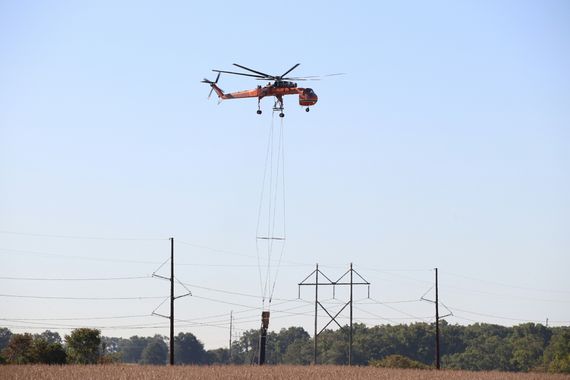 McCormick Taylor served as the primary environmental consultant to DPL. Prior to permit submittal and the initiation of construction activities, McCormick Taylor performed preliminary archeological and architectural fieldwork, raptor nest surveys, wetland delineation, and access corridor analysis. McCormick Taylor identified 33 Phase II sites, two Enhanced Phase II sites, and recovered 12,102 artifacts during our cultural investigations to satisfy Section 106 of the US Army Corps of Engineers (USACE) permit. Forty-three total raptor nests were observed along the existing project ROW during our field surveys, which required consultation with the Delaware Department of Natural Resources and Environmental Control (DNREC), time-of-year restrictions, and buffer requirements. All preconstruction information and fieldwork was integral to the procurement agency permits which needed to be approved prior to the initiation of construction activities.
After receiving approvals from USACE, DNREC, and Conservation Districts, McCormick Taylor provided daily onsite environmental monitoring consultation to ensure compliance with permit conditions. Environmental monitors were responsible for flagging all wetland and stream channels along the project corridor to help the contractor identify resource areas. The monitors' main responsibility was to review the approved design plans and monitor construction activities relevant to environmental permit requirements, environmental regulations, and commitments.