We're proud to announce that Angela Schreffler, PWS, CE has received the John H. McCormick Education Outreach Award presented by the Central Pennsylvania Engineer's Week Council. Nominated by WTS Central PA for her volunteer efforts, she was presented the award at the Council's banquet on Wednesday, February 21.
Angela, a senior environmental scientist in our Harrisburg office, enjoys science, nature, and transportation, and she delights in sharing her excitement with younger generations. While educational outreach has very little to do with her job, it's still something that she is passionate about. Her favorite part of volunteering is watching the kids' disbelief change to excitement when they witness and understand how science makes the world work. Being a female in an industry that is dominated by men, she especially loves introducing girls to STEM topics and helping them realize their full potential as future leaders.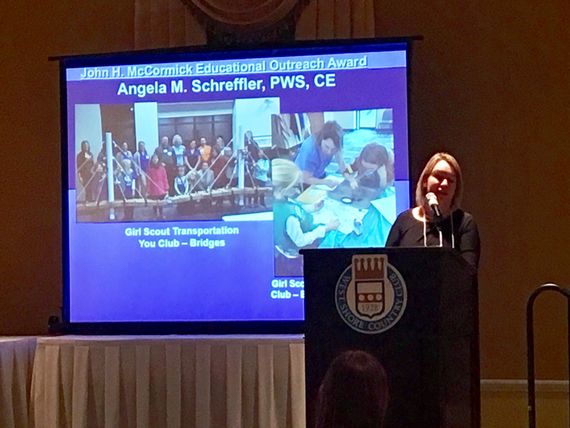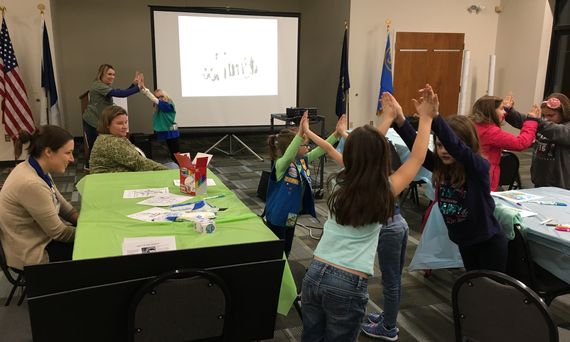 She has been active in a variety of roles since she became a member of WTS in 2008. In addition to the opportunities WTS has offered her, she is a Girl Scout troop leader, volunteers as a judge at local science fairs and her local Junior Achievement program, and she visits her children's school to do in-classroom science activities once or twice a year. Most of the organizations she volunteers for typically involve at least one of her own four kids, so it's another way for her to make fun memories with her family.
"Encouragement, exposure, and mentoring seem to be the most influential factors for girls to choose STEM fields in college and their careers," Angela said. "WTS is the perfect organization to mentor our future transportation leaders."
Angela serves as WTS Central PA's new Scholarship Chair and will continue to volunteer on the Transportation YOU committee, for which she was co-chair from 2014-2017. Transportation YOU is a hands-on, interactive, mentoring program that offers young girls an introduction to a wide variety of transportation careers. Their chapter offers several different types of programs, including classroom visits, donating books to local schools that feature girls in STEM fields, running an activity booth during Engineers Week at a local science center, and a monthly program with the Girl Scouts in the Heart of Pennsylvania.