McCormick Taylor updated the 2009 Gills Creek Watershed Management Plan to reflect changes in the watershed's condition over the last 10 years and to provide recommendations for projects within the watershed to address impairments related to bacteria and dissolved oxygen. We sat down with Katie Ellis, a Water Resources Designer in our Columbia, SC office to learn more about the project. 
Tell us a little bit about what the project is and who it benefits. 
We completed this project for the Gills Creek Watershed Association (GCWA), which is a non-profit organization in Columbia, SC. This project addresses the mission of the GCWA to restore Gills Creek, educates the communities within its watershed, and advocates for the preservation of the creek's resources, beauty, and environmental sustainability. The plan we prepared included input from stakeholders and the GCWA Technical Committee and was reviewed and approved by the South Carolina Department of Health and Environmental Control (SCDHEC). Now that the GCWA has an approved watershed based plan, they are eligible to apply for a variety of grant sources to implement projects in the plan.
What is your role on this project?
I was the project lead. My responsibilities included coordination with the GCWA Technical Committee; compiling and analyzing all available watershed information; identifying and prioritizing stormwater and conservation projects that would promote water quality in the watershed; crafting the watershed management plan to include the required EPA 9 elements; and achieving approval by our state's regulator agency, the SCDHEC.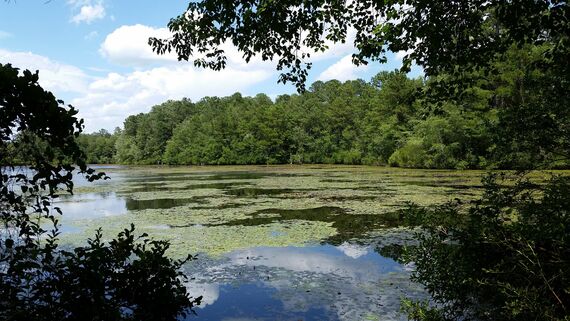 What about the project highlights McCormick Taylor's talents?
In addition to our expertise related to water resources and stormwater management, this project gave us a chance to show our ability to communicate effectively with stakeholders, especially while social distancing during the COVID-19 pandemic. Our GIS specialists created two interactive webmaps that helped us identify areas for potential future projects. The first allowed stakeholders that lived and/or worked in the watershed to indicate locations and provide descriptions of pollutant hotspots (erosion, sediment, trash, construction, animals, etc.). The second allowed members of the GCWA Technical Committee to sketch out boundaries of areas that could be candidates for projects such as stormwater BMPs (bioretention, pervious pavement), stream repair, or conservation easements.  
Have you come across any challenges or concerns while working on this project?
Because the watershed spans several jurisdictional areas (one county, four municipalities, and one army base), we had to stitch together a variety of pieces of available GIS data and develop protocols and procedures for when we found data gaps. I am grateful to the amazing GIS staff at McCormick Taylor for helping gather, compile, and analyze all the spatial data I needed (from soils, water features, and land use/land cover to RCRA sites, NPDES permits, and water quality monitoring stations) to create both the figures and tables for the plan, as well as the inputs I needed for the water quality model.
Were there any challenges related to COVID-19?
Fortunately, the COVID-19-related challenges were minor and mainly involved the elimination of in-person meetings. We were able to overcome that hurdle with the help of online meeting platforms like Fuze and Zoom. The ability to share screens with our client and the Technical Committee while using these types of meetings made discussions and planning regarding projects in the watershed much easier. Additionally, the webmaps we created allowed us to get feedback from stakeholders without having to be face to face. The Watershed Hotspot Location survey had 206 responses from stakeholders. Of these responses, 81 were for sediment and 44 were for litter.
Does the project have any unique aspects?
The Gills Creek Watershed is one of the largest urban watersheds on the East Coast – it's comprised of three HUC-12 watersheds and covers approximately 47,000 acres and 70 miles of streams. And yet, despite its very urbanized setting, it is still home to a wide diversity of wildlife and provides ample opportunities for recreation (hiking, kayaking, fishing). In 2015, Hurricane Joaquin created devastating floods and dam failures in the watershed. This new watershed plan establishes strategies to help reduce the severity of future events by encouraging floodplain protection, reducing impervious surfaces, and decentralizing stormwater management BMPs. In total, McCormick Taylor made recommendations for over 270 projects in the watershed, including conservation areas, stream restorations, green roofs, bioretention, pervious pavement, underground detention, and stormwater wetlands and ponds.
What's your favorite part of the project?
I have been inspired by and enjoyed working with members of the GCWA and Technical Committee. I am reminded of the quote from Margaret Mead, "Never doubt that a small group of thoughtful, committed citizens can change the world. Indeed, it is the only thing that ever has." The GCWA is essentially run by one full-time staff member and a fleet of dedicated volunteers who are passionate about the watershed. Before COVID-19 shut down social activities, a few of us from the McCormick Taylor's Columbia office attended the GCWA annual fundraiser "Wine for Water" to support the association.
What has the feedback been like from the community?
We have had very positive feedback. Our review comments from the watershed managers at SCDHEC said that the plan was "very well done and the detail and location of the management measures is very impressive." The GCWA coordinator and Technical Committee were very pleased not only with the end product, but with McCormick Taylor's responsiveness as well. We worked hard to respond quickly to questions and comments and provide a quality product.