In the spirit of Giving Tuesday, McCormick Taylor is highlighting two of the organizations we are proud to have supported in 2021. Celebrating and lifting up the LGBTQ+ community is important year-round, and McCormick Taylor's Diversity, Equity, and Inclusion (DEI) Committee was pleased to request funds for both of these important organizations.

William Way
William Way seeks to engage and support the diverse LGBTQIA+ communities in the greater Philadelphia area through arts & culture, empowerment, and community connections. Their mission is to help LGBTQIA+ people to feel safe, connected, and empowered. They strive to be a community center whose staff, management, and board reflect the vibrant and richly diverse communities they serve.
McCormick Taylor's donation helps keep William's doors open 365 days a year and gives people access to vital civic, wellness, educational, and cultural programs, including:
Senior services
Peer counseling
Recovery services
Lending Library
Cyber Center
Workshops
Art Gallery
Historical archives
Holiday meals
Community organizing
Support groups
Learn more about William Way: https://www.waygay.org/
Side by Side
Side by Side is dedicated to creating supportive communities where Virginia's LGBTQ+ youth can define themselves, belong, and flourish. Side by Side provides training, workshops, support groups, advocacy groups, housing programs, counseling, emergency financial assistance, clothing, food/meals, hygiene products, lockers, library resources, survivor support, HIV testing, and so much more.
The organization is an exceptional resource for the LGBTQ+ community in the state of Virginia, and McCormick Taylor's donation will help youth in the area build a successful future.
Learn more about Side by Side: https://www.sidebysideva.org/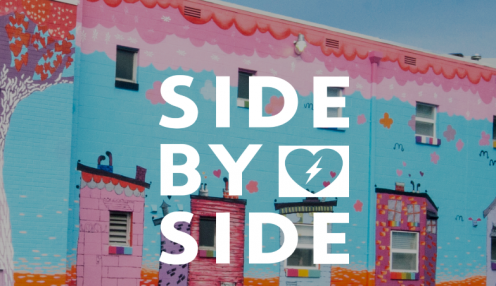 About McCormick Taylor's DEI Committee
McCormick Taylor strives to cultivate a diverse and inclusive environment. Our commitment to inclusion spans age, race, gender identity, sexual orientation, nationality, religion, and physical and mental ability. Our focus is on building a culture that promotes, supports, and values the diverse backgrounds and voices of our employees so that everyone can succeed.
About McCormick Taylor's Charity Committee
Over the years, we've realized that the passion our people have for the charities and organizations they care about helps shape their personalities and drive them to succeed and we wanted to be a part of that. In 2017, we created a Charity Committee that is responsible for reviewing requests for charitable donations and allocating funds on behalf of the company. By becoming involved with our employees' different organizations, programs, and charities, we grow closer to our employees and the places we call home.
Click here to see the other organizations we support!